Second Level Master, Adv. Venian (Naum) Mile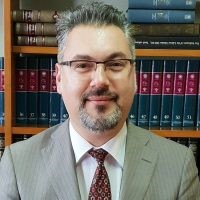 He was born in Korça, Albania. He completed his studies at the Faculty of Law, University of Tirana from 1995 – 1999 and in 2002 he has completed his Second Level Master of the study program in Business Administration, and holds a diploma issued from the University of Bordeaux, France. He holds the title of Advocate from the National Chamber of Advocates. Mr. Mile has been involved in French translations and then in various exchange programs as part of the twinning visits to his hometown and the North of France. He has been working in a law firm for a year in Tirana. He has also worked for four years as a radio reporter and speaker at "Resurrection" Radio.
Subsequentlly, he has worked in the banking sector for sixteen years, first as a specialist and then in leading positions at the Department of Legal Affairs of Tirana Bank, sh.a.
He has been a Member of the Board of Directors of "Evangelisation" Foundation since 2013 and he is a member of the Clergy-Laity Church Council.
Mr. Mile currently holds the position of Administrator of "Logos" University College.