HEAD OF THE DEPARTMENT OF THEOLOGY AND CULTURE
PhD Georgios Gaitanos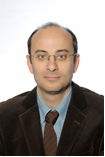 Short Bio:
Dr. Georgios Gaitanos works as a Lecturer of Religious Studies and he is the head of the Faculty of Social Theology and Science of Religion of College Logos University, Tirana. He has studied Theology, Study of Religion and Social Anthropology at the Aristotle University of Thessaloniki and Counseling at the School of Pedagogical and Technological Education (Aspete).
At the moment he is working on several research programs of the Faculty of Theology via the Research Committee and the Life Long Learning Institute of Aristotle University.
His main academic interest is the theory of religious studies and specializes in researching new categories in the Study of Religion.